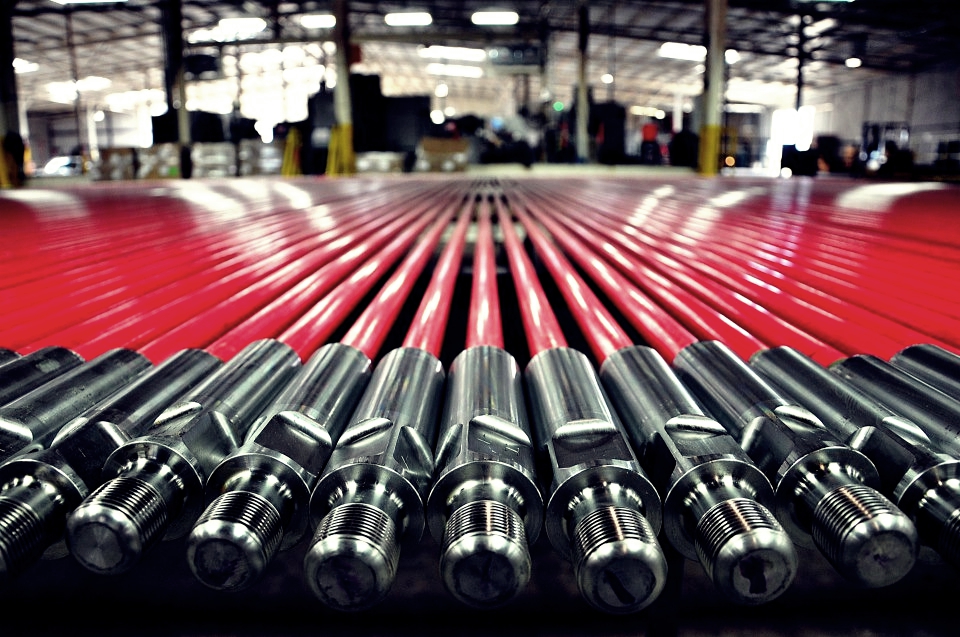 Superod® is the most technologically advanced fiberglass suckerod in the world. The new patented end fitting has the best stress distribution of any end fitting that has ever been built. This gives you a product that will last longer and handle more load than any suckerod on the planet.
Superod® Suckerods
37.5' (11.43 meters) long vs. 25' (7.62 meters) for steel.
Available Size:
1-1/4" (31.2mm)
1" (24.9mm)
 Lighter & Stronger Than Steel
 Reduces Operating Costs
 Allows For a Smaller Size Pumping Unit
 Qualifies as Enhanced Efficiency Equipment. Reduces Energy Consumption
 Reduces Down-Time
 Non-Corrosive
 Increases Production, When Available
 Customized Engineered Rod String Design
 Best Warranty in the Industry (24 Months) Plus Pulling Costs*
 Competitively Priced with Steel 
RESEARCH AND TESTING
Cyclic stress testing is performed with a randomly selected, completed SUPEROD in a continuous and rapid cycle tester at thirty cycles per minute at ranges from 0 to 40,800 lbs. of force for millions of cycles.
Testing subjects the samples to far more severe conditions than the SUPERODs would see in a client's well.  This demonstrates the capability of the performance and longevity that SUPEROD® promises. 
BOTTOM LINE
What does this mean to the crude oil producer?   Superod's commitment to top quality products, on-time and affordable installation, and continued service after the sale provide the total package for maximum profitability.
Properly designed sucker rod designs are capable of increasing fluid production with increased efficiency and lower lifting costs.  Because a fiberglass sucker rod string is elastic, a longer down hole pump stroke relative to the surface stroke can be achieved allowing more fluid to be lifted with each cycle.  Because a fiberglass sucker rod string is light, pumping unit loads are reduced, allowing for lower gearbox loads.  Lower gear box loads mean more production per horsepower input.
Today's oil producer is face with a constantly changing production situations.  Faced with high fluid levels, deep pump settings corrosive fluids, high gear box loads, and high horsepower requirements, more producers are turning to Superod® for solutions to their down hole situations.  Today's oil industry survives with efficiency and profitability.  Superod® is not interested in what we could or would do; we are focused on what we can and will do for our customers.